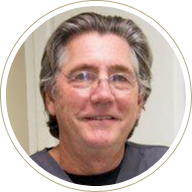 Allan V. Pfeiffer, DDS
Dentist located in Malibu, CA
Patients all over Southern California have endorsed Dr. Allan Pfeiffer for his honesty, integrity and gentle approach to dental care. From his Malibu practice, Dr. Pfeiffer provides superior dental services, including routine exams, x-rays, fillings, dental crowns and a wide variety of other treatments and procedures.
(310) 456-2051
Dental Crowns Q & A
Are Dental Crowns Used for Structural or Cosmetic Reasons?
The short answer is both. Crowns can be used for a variety of reasons, including:
To strengthen a tooth with a large filling,
To replace a tooth that's been damaged by trauma.
To protect a weak tooth from breaking following a root canal,
To attach a bridge, dentures or partials,
To cover a tooth that discolored, stained, cracked, misshapen or crooked,
To cover a dental implant.
What are Dental Crowns made from?
Crowns can be made of gold, ceramic or porcelain. Porcelain and ceramic crowns are matched to patients' teeth so the size and color look completely natural.
How does a Dental Crown Differ from Porcelain Veneers?
Porcelain crowns and veneers can help correct cosmetic issues with teeth. However, veneers don't address structural problems. Veneers are placed on the outside front of the teeth and used to restore the appearance of the teeth. In that sense, veneers are purely for cosmetic purposes. A porcelain crown caps the entire tooth and offer a strong, durable surface for chewing and biting.
How are Dental Crowns Placed?
Regardless of the type of crown used, the process takes several months. The damaged tooth will be removed and a dental implant placed beneath the patient's gum. After several weeks, when the implant has had to fuse to the jawbone, Dr. Pfeiffer will cap the area with a crown created uniquely for each patient's mouth.
Do Crowns Require Special Care?
Crowns are intended to replicate natural teeth, so they can be treated as such. Regular brushing with an non-abrasive fluoride toothpaste and flossing is all the maintenance a crown requires. Patients often assume porcelain crowns are fragile, but in reality, porcelain crowns are almost as strong as a natural tooth.