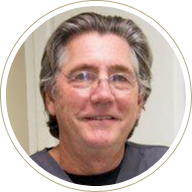 Allan V. Pfeiffer, DDS
Dentist located in Malibu, CA
Dr. Allan V. Pfeiffer, DDS, understands that missing teeth are unhealthy and embarrassing, so he provides quality dental implants for patients living in and around Malibu, CA. Dr. Pfeiffer works with a Board Certified Oral Maxillofacial Surgeon, who is a specialist in dental implants, to create dental implants that look and feel like natural teeth but are also stronger and more attractive.
(310) 456-2051
Dental Implants Q & A
Dr. Allan V. Pfeiffer, DDS, may recommend dental implants for patients with missing teeth due to gum disease, an injury, or other causes. A dental implant is an artificial tooth root surgically implanted into the jaw; the root holds a replacement tooth or bridge.
Who Might Benefit From Dental Implants?
Dental implants are not for everyone, so the dental surgeon always performs a comprehensive examination to determine whether the dental procure is appropriate for a patient. The ideal candidate is in good physical and dental health overall. The surgeon determines whether the patient has adequate bone surface in the jaw to support the implant and if his or her gum tissues are healthy and free of periodontal disease.
What Is Involved?
Depending on the patient's specific conditions and expectations, the dentist may replace a single tooth, a few teeth, or all of a patient's teeth with dental implants. In any case, the dental implant procedure often takes two office visits with a short recovery period in between. The dentist surgically places the implant into the jawbone on the first office visit and places the new artificial tooth, known as a crown, on the second visit.
What Are the Benefits?
The key benefit to dental implants is that they connect directly to the bone for a secure fit that looks natural. Patients can speak, smile, and eat without worries of slipping and sliding dentures. A board-certified oral maxillofacial surgeon uses every tool available to ensure that dental implants fit as securely and work as well as the patient's natural teeth. He also makes sure the color and shade of the dental implants match the patient's nearby teeth.